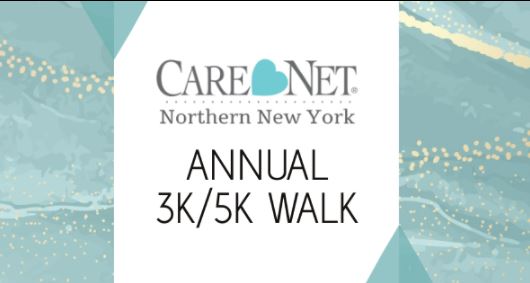 Join us for our annual 3K/5K Walk!
Enjoy a morning of fun and exercise, while supporting a great cause!
Date: March 5, 2022
Location: Salmon Run Mall
21182 Salmon Run Mall Loop
Watertown, NY, 13601
Two Start Times Available:
8:30 AM & 10:00 AM
Registration: $30
carenetnny.com/support-our-work
315.782.5433
Register by February 20th to receive a FREE T-SHIRT!
(Online registration will remain open until March 4th. However, if you sign up after February 20th, you will not receive the free t-shirt.) We will also have a limited supply of t-shirts available for purchase at the event.
If you register multiple people, you are responsible for checking in and receiving t-shirts for your group.
– For all age groups
– Ages 12 and under are free
– Children must be accompanied by an adult AT ALL TIMES
– Strollers, wheelchairs, etc. are welcome. This is a family-friendly, indoor event!