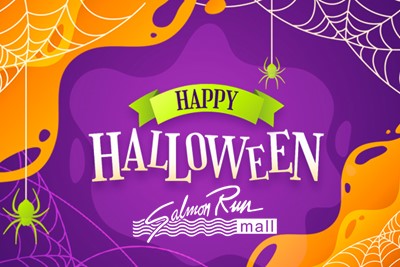 October 28th – 31st
Join Salmon Run Mall October 28th through October 31st as we do up Halloween a little different this year!  Unfortunately, we will not be hosting a Mall Wide Trick or Treat event, as we have in the past.  However, we will be hosting various events the whole weekend – making it a "Hallo-Weekend of Fun"!
Zero Latency will be offering a special "Undead Arena" Tournament for guests to participate in October 28th through October 31st.  The cost is only $29 to enter each tournament (compared to $49).  There will be first, second and third place winners.
First Place is 4 Zero Latency gift cards (valued at $200)
Second Place is 3 Zero Latency gift cards (valued at $70)
Third Place winner receives 1 Zero Latency gift card (valued at $50)
Register online or visit Zero Latency on Facebook.
The Magick Apothecary will host a "Witches Dance" Flash Mob on Saturday, October 30th.  Time to be announced.  Visit The Magick Apothecary to see how you can participate!  Plus, all day long on October 30th, all kiddos can stop in and take part in a fun activity craft!
XTreme Cornhole will have goodie bags for all kids who stop in to play a round of corn hole with their family throughout the day.
Paint It Pottery will have a special painting activity for children on Saturday, October 3oth.
Redemption Designs will host pumpkin carving/painting for families/kids on Thursday, Friday and Saturday from 5pm-8pm each night.  The cost is $15 for adults; $10 for kids to cover material costs.  Register ahead of time at Redemption Designz (space is limited)
Planet Fitness will have an activitiy table set up for activities for kids throughout the day near Verizon.
Stay tuned for more events all weekend long!