SALMON RUN MALL TO HOST THE "GET HIRED!" JOB FAIR SPONSORED BY CORNELL COOPERATIVE EXTENSION
WATERTOWN, NY – Salmon Run Mall will host a special "Get Hired!" Job Fair sponsored by Cornell Cooperative Extension this Thursday, September 14th.  As we head into the busy fall & holiday seasons, businesses from in and around the North Country, in addition to retailers within Salmon Run Mall, will be looking to fill various part-time and full-time positions.  These positions will add to the 500 jobs Salmon Run Mall currently provides within the Town of Watertown and Jefferson County.
Get Hired Job Fair:  Thursday, September 14th from 2pm-6pm in Center Court, near Burlington and JC Penney
Sample of Businesses Hiring:
Cornell Cooperative Extension 4H Afterschool Program
North Country Prenatal Perinatal Council
Planned Parenthood of NNY
The ARC Jefferson-St. Lawrence County
Thousand Islands Harbor Hotel
Children's Home of Jefferson County
UG2 Housekeeping Services
Allied Universal Security
Over a dozen mall merchants will be available with hiring info and/or one-on-one interviews
Stop at the Cornell Cooperative Extension booth to enter-to-win a $50 gift card to JC Penney who will help you "dress to impress" on your first day of the new job!
Showcase your business to prospective employees:
For local businesses looking to hire, there is still time to get in on this event.  We urge you to reach out as soon as possible to reserve your spot in advance.  Businesses seeking employees are encouraged to reach out to Karla Noftsier at [email protected] or Tom Kennedy at [email protected] or by calling 315-788-9210.  For more information about mall events, store hours, sales, new store openings and more, please visit our website at www.shopsalmonrunmall.com, or like and follow on Facebook and Instagram.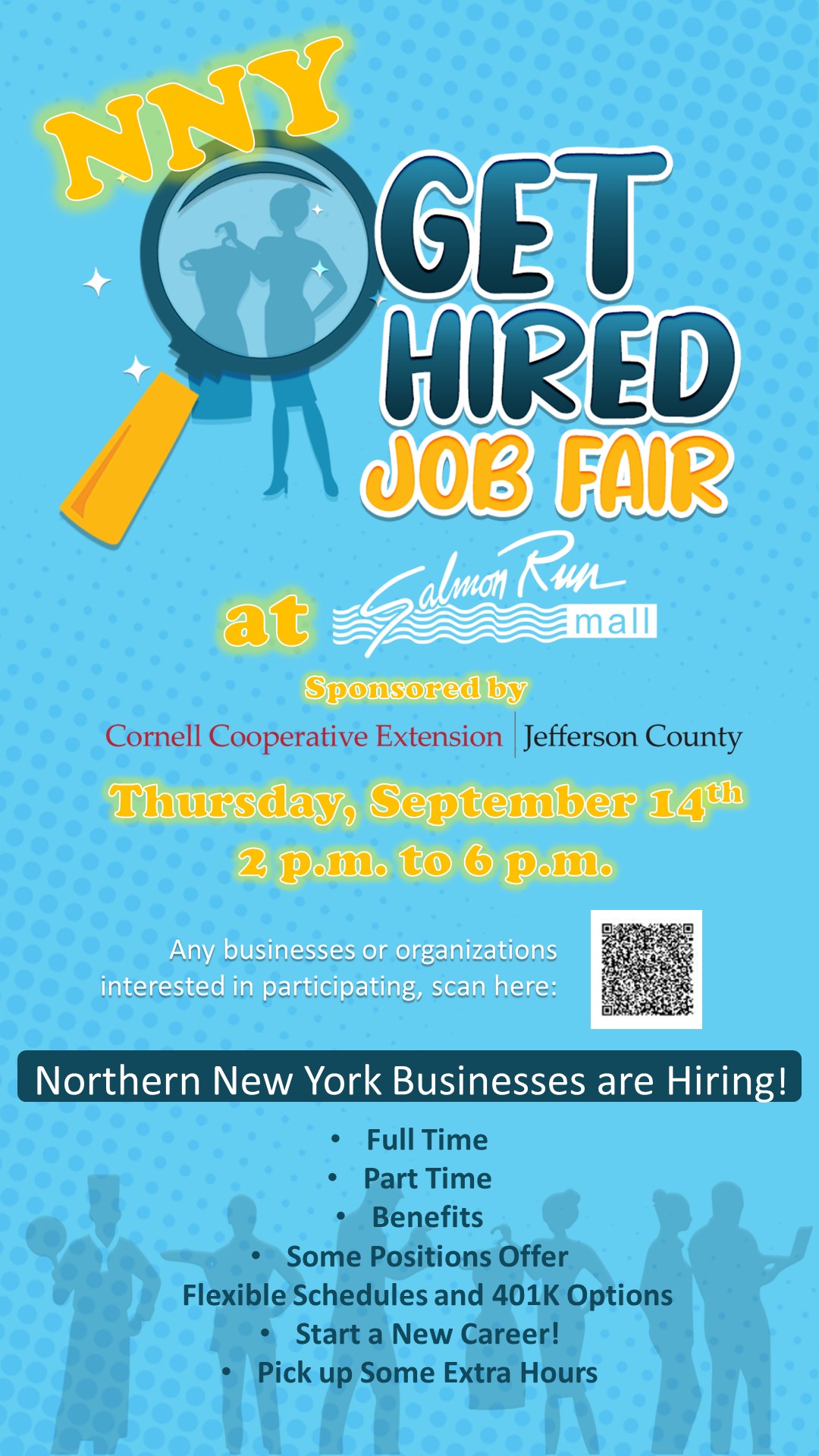 Looking for a part time or full time job?  Maybe something seasonal?  How about a keyholder position, clerical, administrative, and the list goes on.  Check out some of these businesses that are hiring right now, at the Get Hired Area Wide Job Fair to be held on September 14th beginning at 2 p.m.  On site interviews, information, and more!
Cornell Cooperative Extension 4H Program
Children's Home of Jefferson County
North Country Prenatal Perinatal Council
Planned Parenthood of NNY
Thousand Islands Harbor Hotel
and more!
Plus, many of our stores will be hiring for the holidays and beyond:
Dick's Sporting Goods
Burlington
JC Penney (and the Salon)
Hobby Lobby
Regal Cinemas
Best Buy
and more!
If you are a business or organization and would like to take advantage of this opportunity – scan the QR code above for more information or contact the mall office!