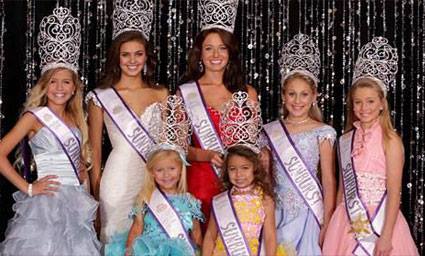 SUNBURST PAGEANT AND MODEL SEARCH IS COMING TO A LOCATION NEAR YOU!  DON'T MISS THE FUN AND EXCITEMENT!
Do you have a beautiful baby?  Does your child enjoy being in front of an audience?  Do you want to be discovered?  Sunburst Model Search and Beauty Pageant are always looking for new faces and will be at:
Salmon Run Mall in the Court Area by Gertrude Hawk, Sunday, November 3rd.  Time to be announced.  
Sunburst is celebrating 41 years of discovering new faces.  Current and former contestants have appeared in ads, commercials, television series, movies and all entertainment fields.  Sunburst currently has two contestants in Nickelodeon shows and two former contestants went on to become Miss America and Miss USA!  Contestants compete for the opportunity to win savings bonds ranging from $500 to $10,000 and many other outstanding gifts.
All finalists chosen and crowned on the day of the competition will advance to the state finals.  Everyone will receive a crown and trophy.  Judging is based on beauty and personality.  Winners will be chosen from each of ten age divisions and boys are judged separately from girls.
BOYS AGE GROUPS ARE:               0-23 months; 2 – 4 years old
GIRLS AGE GROUPS ARE:              under 1 year old; 1 year old; 2 – 3 years old; 4 – 6 years old; 7 – 10 years old; 11 – 13 years old; 14 – 17 years old; 18 – 27 years old; Age 28 and up
To receive information on how to enter, please contact Sunburst Pageants at www.sunburstbeauty.com or call for information at 727-258-7053.  Entry forms are also available at Salmon Run Mall.   For more information on this and other upcoming events, store promotions, directions to the mall and more, always log on to www.shopsalmonrunmall.com.