American Eagle
tops start at $14.99
select shorts are buy one get one 50% off
AT&T
military and veteran families – learn how to get 25% off monthly charges – visit their store located in the Food Court by Regal
Auntie Anne's
skip the line and order in the app – plus earn points toward free pretzels with every purchase
Bath & Body Works Semi Annual Sale
daily deals
wallflowers fragrance refills $3.50
select items are 75% off
select full size body care is $4.95
3-wick candles are 50% off
White Barn Candles are on sale
select clearance is up to 75% off
Charlotte Russe
Holiday Weekend Blowout Spectacular – select styles are $5 or less
select footwear is buy one get one for $1
select shorts are 50% off – now $12.99
select graphic character tees are $10
Claire's Accessories
hair and jewelry buy 3 get 3 FREE
anklets and toe rings are buy one get one 50% off
Cricket Wireless
$60 gets you unlimited data, nationwide 5G premium data, mobile hotspot and cloud coverage and HBO Max
visit their kiosk near Charlotte Russe for details and other plans (an AT&T carrier)
Dairy Queen Orange Julius
Try the new Carmel Drumstick with Peanuts Blizzard or the Drumstick with Peanuts Blizzard – located next to Charlotee Russe
Famous Footwear
Clearance is buy one get one 50% off
FYE
all tees are buy one get one 50% off
all socks are buy one get one 50% 0ff
all hats are buy one get one 25% off
Hobby Lobby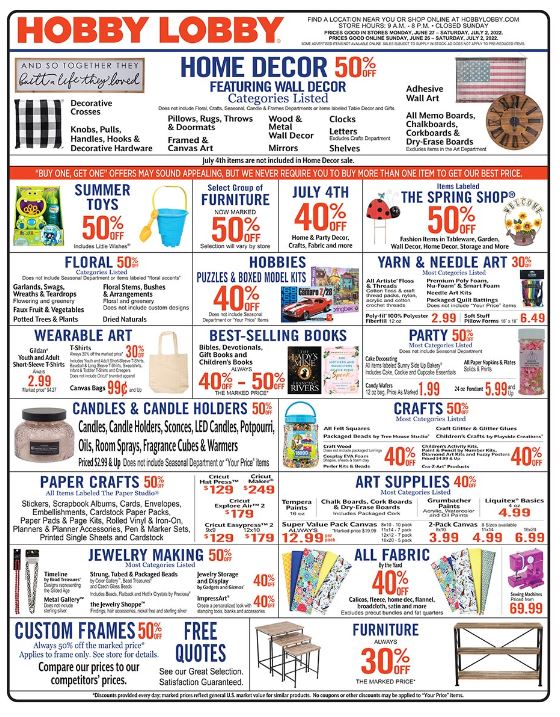 Hollister
Shop Clearance and take up to 40% off original prices
Up to 50% off other select styles throughout the store
Hot Topic
Score an exclusive collectible sticker and free membership to Shonen Jump with a select anime purchase of $10
various sales throughout the store
Macs Subs, Wraps and More!
check out the newest addition to the Food Court – serving hot and cold subs and wraps, build your own salads, comfort foods, chicken tenders, mozzarella sticks and other fried foods, hot gravy sandwiches.
Now serving breakfast!
Delivery available at
315-777-4023 (minimum $10 order and $3.99 delivery charge applied)
Maurices
Earn $20 in Maurices money when you spend $50 or more this weekend!
Semi-Annual Super Sale is going on now – different sales every day including buy one get one 50% off deals, 30% off and markdowns on clearance
use your Maurices Rewards for additional savings
apply for the Maurices Credit Card and get 15% off – just for applying (10% anytime after that on future purchases)
Sarah's Hair Salon
Mens Haircuts are $15
Womens Haircuts are $20
Walkins Welcome
Sbarro's
get free delivery and exclusive menu items at Sbarro.com
Spencer Gifts
buy one get one 30% off almost everything throughout the store
The Children's Place
Clearance starts at $2.99
Monster Sale FINAL Blowout – mix and match tees, tanks and select shorts are $3.99 (select styles); Uniform Polos are $4.99; many other buys throughout the store up to 75% off
The Shoe Dept.
Red Dot Summer Sale is going on now throughout the store
take an additional 50% off the lowest price on anything with a red dot
Victoria Secret Semi Annual Sale
50% off select bras and panties
fragrances and accessories are on sale
select body care products are $5.99
panties start at $3.99 and up
final clearance is up to 60% off
Wendy's
try the new Big Bacon Cheddar Cheese Burger or Chicken – creamy cheddar cheese, sweet savory bacon jam, toasted cheddar bun
another try is the new Hot Honey Chicken Sandwich – a great mix of sweet and heat!
Zero Latency
20% discount for all group bookings on July 4th (must have a minimum of 2 players)
In observance of the Independence Day holiday, Salmon Run Mall will be open on Monday, July 4th from 10 a.m. to 6 p.m.
Regal is open regular hours
Burlington is open 9:30 a.m. to 9 p.m.
Hobby Lobby is open from 9 a.m. to 5:30 p.m.
Planet Fitness will be open from 7 a.m. to 1 p.m.