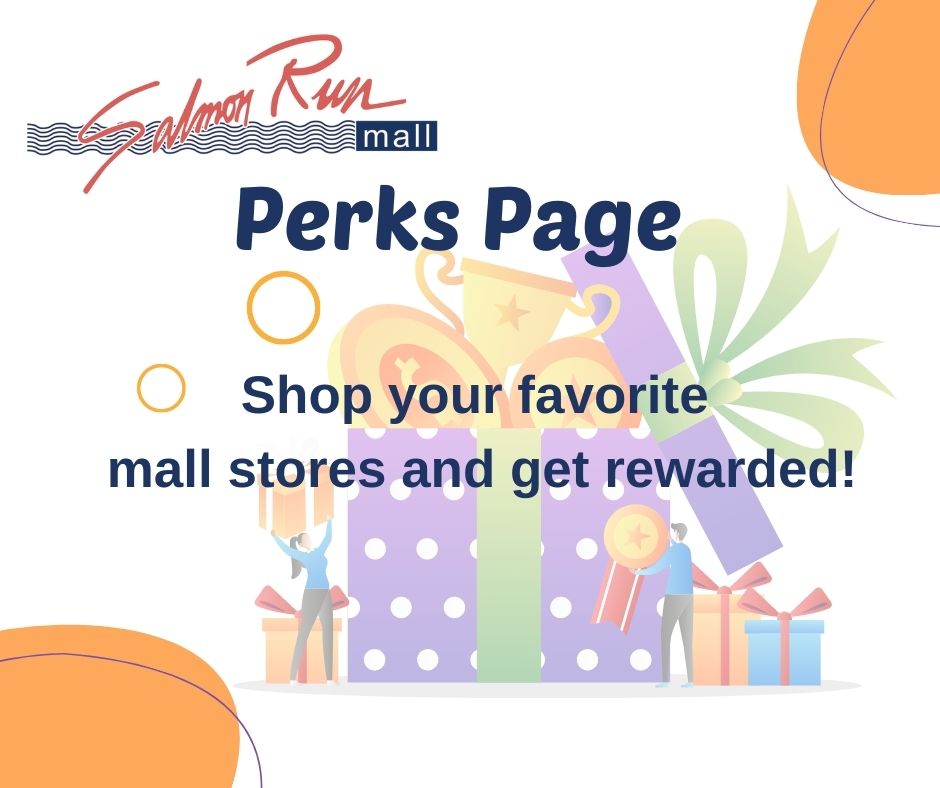 Everytime you visit your favorite mall store take advantage of these Customer Perks!
American Eagle Real Rewards
sign up for FREE
for every 10 points get $1 to spend
close your loop with 1,250 points and unlock a $5 reward
2x points on jeans
members only sales and events
free shipping on orders over $75
Bath & Body Works Rewards
earn points with every purchase – $1 = 10 points
spend $75 to earn 750 points and redeem a FREE full size product (up to $16.50) of your choice
unlock member exclusive access to special events, products and more
unwrap an annual birthday gift from us to you
Dick's Sporting Goods Scorecard
get 1 point for every $1 you spend on qualified purchases
receive a $10 reward for eevery 300 points you earn, get exclusive offers via mail and email
connect your fitness tracker with the Dick's app to earn 3 points per day when you acheive 3 miles, 10,000 steps or 30 minutes of activity
Famous Footwear Famously You Rewards
get $5 for every 100 points – up to $250 a year
free shipping on all onlin eorders and from your store
combine your reward cash with a coupon, member exclusive offers and sales for the best savingsreceive special offers
Hollister Club Cali
earn cash with every single purchase
$1 = 100 points
12,500 points = $5 in Cali Cash
Hot Topic Guest List
Join FREE – get $5 for every 100 points earned
1 point for every $1 spent
special rewards on your birthday and Guest List anniversary
early access to sales and events
exclusive offers
earn 500 points and get VIP status, which means even more rewards
JC Penney Rewards
Sign up for JC Penney Rewards and enjoy an extra 30% off (exclusions apply, see store for details)
Earn $10 Rewards
birthday gift
special offers
print, scan or apply rewards at checkout
check your points balance
on-the-go access anytime, anywhere with the JCP app
apply for one of 3 level JC Penney credit cards and take advantage of even more benefits!  Plus, you can payoff your card right in the store!
My Maurices Rewards/Maurices VIP Credit Card
Creating an account is easy! Sign up so you can check out quickly, manage preferences and enjoy mymaurices rewards like…
Earn points with every purchase
Easy order tracking
A birthday gift
Exclusive offers
More surprises
Get even more perks with the VIP credit card!
extra 10% off purchases when you use your card

free shipping with no minimum purchase on your card

exclusive access to sales & offers, plus extra special surprises

$10 off on your birthday

double points (& more!)

easy bill pay online and in store
Regal Unlimited
Get Regal Unlimited only in the app
download the free Regal app
Click on any Regal Unlimited banner
Choose the plan that's right for you!
Enjoy these perks:
10% off all food and non-alcoholic drink purchases
FREE large large popcorn and softdrink on your birthday
No limits or blackout dates
Earn Regal Crown Club credits with every dollar spent using your Regal Unlimited subscription
Easily upgrade tickets to 3D, IMAX, 4DX, Screen X, VIP and RPX, where applicable
Cancel anytime – subscriptions are either 3-month or 12-month committments, pending the plan you choose
you can see back-to-back movies
get tickets through the Regal app
Regal Unlimited passes are exclusive to to the subscriber – a photo ID is required to receive your ticket – you will submit a photo through the app when you subscribe
The Children's Place My Place Rewards
Go online and join – it's fast, easy and FREE
Every time you shop get rewards on all brands
as soon as they are earned, they are sent to your online and email account
spend $100 and get a $5 reward
sign up for the My Place Rewards Credit Card and get even better rewards and discounts
Torrid Rewards/Torrid Cash
earn 1 point for every dollar spent – get a reward for every 250 points
level up to a new tier based on your spend
the higher the tier, the more perks you unlock
unlock free shipping and free returns
get $25 in Torrid cash for every $50 you spend with Torrid Cash
Wendy's Rewards
whatever food you order through the app, website or at the counter counts towards your rewards (except gift cards)
for every $1 you spend, you earn 10 points
when you earn enough points, trade them in for some of your favorite menu items in the Rewards store
To our soldiers – we salute you!  Show your valid military ID and get in on the discounts!
AT & T
American Eagle
Hollister
Hot Topic
Jimmy Jazz
Loft 315:  15% off all regular priced items for Active Military; 10% off for all regular priced items for retired/veterans
Macs Subs and Wraps:  10% military discount
Maurices:  10% off military discount; apply for the Maurices credit card and get an additional 15% for applying and 10% everytime after that
Rainbow Zen
Spencer's
The Paisley Lily:  10% military discount
Torrid:  10% off military discount with presentation of valid military or veteran ID (save an additional 40% of fyour purchase with a Torrid Credit Card approval)