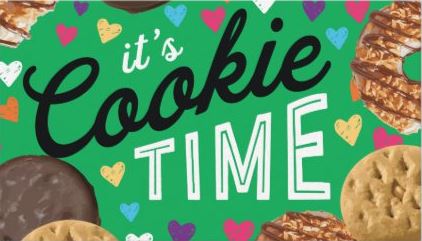 Local Girl Scout troops will be stationed at Salmon Run Mall weekends beginning February 29th for their annual cookie sales.
Over the next several weekends, the Girl Scouts will sell their legendary cookies in your favorite flavors and all varieties are $5 a box.  New cookie Lemon-Ups has joined the lineup with Trefoils, Do-si-dos, Tagalongs, gluten free Toffee-Tastic, Thin Mints, Samoas and Girl Scout S'mores.  Every purchase is a local investment; funds raised go towards experiences and opportunities like community service projects, travel, badge work, etc. for local Girl Scouts across the GNYPENN Council which covers 24 counties in NY and 2 in northern Pennsylvania.
Get your Girl Scout cookies at Salmon Run Mall every weekend from February 29th through March 29th during these available times:
Fridays:                4 p.m. to 8 p.m.
Saturdays:           10 a.m. to 8 p.m.
Sundays:              12 p.m. to 6 p.m.