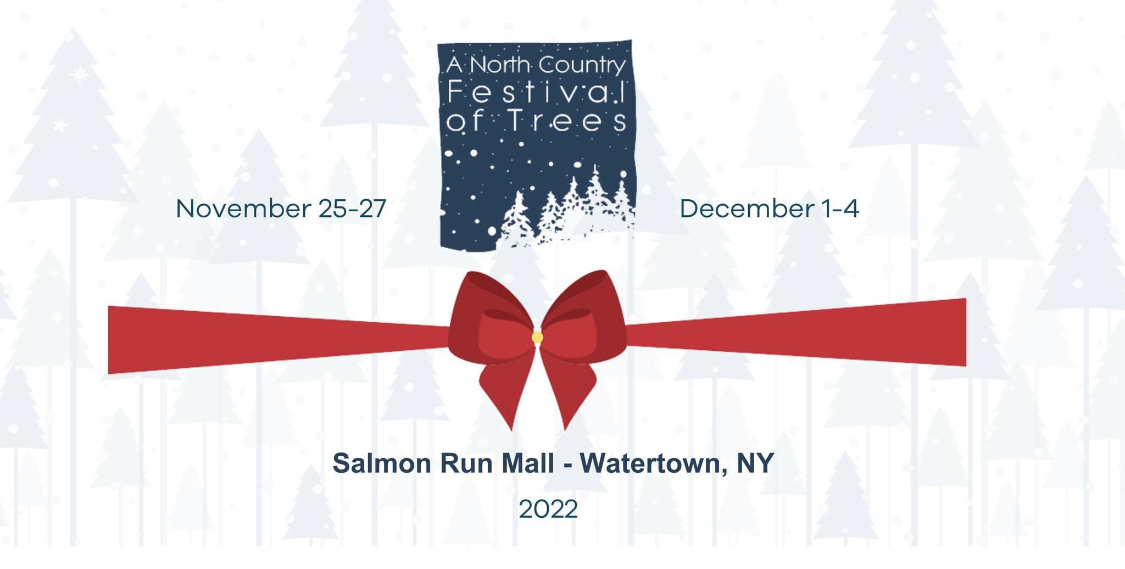 A North Country Festival of Trees will once again kickoff the holiday season by offering an online tree auction and in-person tree viewing from November 25-December 4 at Salmon Run Mall (in the former BonTon space, located near the Billy Beez end of the mall).  All trees on display are hand-decorated by community members and are available for bidding for purchase or donation.
The Festival of Trees committee is now welcoming sponsors and tree decorators.  More information on both of these opportunities is available online at www.samaritanhealth.com/festivaloftrees-sposnors, or by calling 315-785-5745.
A North Country Festival of Trees benefits healthcare services and programs at Samaritan Medical Center and children's scholarships at the Watertown Family YMCA.  The 4-day festival schedule is as follows:
Public Viewing:  Trees will be on display for FREE public viewing at the Salmon Run Mall from:
Friday, November 25 to Sunday, November 27 from 10 a.m. to 5 p.m.
Thursday, December 1 from 4 p.m. to 7 p.m.
Friday, December 2 from noon to 3 p.m.
Saturday, December 3 from 10 a.m. to 5 p.m.
Sunday, December 4 from 10 a.m. to 2 p.m.
Please visit the Samaritan website here for details.
Gala:  Our Gala will take place Friday, December 2.  Select trees will be available at the in-person live auction that evening.  Gala tickets are $90 per person and RSVP is required.
Online Tree Auction:  will be held from Friday, November 25 to Sunday, December 4, select trees will be up for bid on our online tree auction site at  our Samaritan site
Intrepid Broadcasting, Inc. (Tunes 92.5 and 104.5 FM) are proud sponsors of the 2022 "A North Country Festival of Trees".