To our faithful guests & shoppers, it's been too long! The Salmon Run team and stores have missed you terribly while we were busy social distancing for the safety and health of those around us, but we're slowly gearing up for a safe reopening.
In the meantime, we are thrilled to announce "Curbside@Salmon Run" in accordance with direction from New York State. As part of Phase One, although we cannot allow any guests inside the center, we want you to be able to enjoy purchasing from some of your favorite stores.  Salmon Run will be open daily to provide this shopping experience.
While stores offering this service may vary, the list below will be updated accordingly. Please call the store of your choice listed below or visit their website to place an order. Unless the store you are picking up from has their own exterior entrance, the map below shows where curbside pickup for the stores within the center will be located: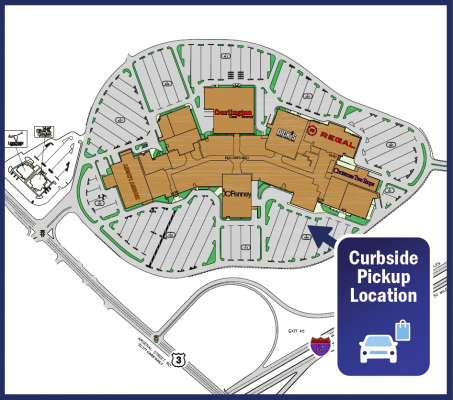 Best Buy is Now Open!
Reduced hours are every day from 10 a.m. to 6 p.m.
Curbside pickup is still available every day from 10 a.m. to 6 p.m.
Customers can now make appointments for consults or repairs in-store from noon to 5 p.m. by going online at www.BestBuy.com or call the store directly at 315-782-0867
Best Buy offers dedicated shopping time to vulnerable shoppers from 10 a.m. to 11 a.m. every Wednesday
Burlington is now open everyday 9 a.m. to 9 p.m.
Dick's Sporting Goods-is Now Open!
Regular Hours are Monday through Saturday from 9 a.m. to 9 p.m. and Sunday from 10 a.m. to 7 p.m.
The store also continues to offer curbside pickup services
JC Penney is Now Open!
Reduced hours of operation are Monday through Saturday 12 p.m. to 7pm and Sunday from 11 a.m. to 6 p.m.
The store is open for vulnerable shoppers every Wednesday and Friday from 11 a.m. to noon
The Salon is open by appointment ONLY – no walk ins are allowed; call 315-782-6625 to make your appointment
Sephora is open and curbside pickup service is available
American Eagle is offering curbside service 7 days a week starting Monday, July 6.  Order online or call the store for more information at 315-788-0833.
Kay Jewelers is now offering curbside.  For questions or more information, contact their store at 315-782-5115.
Zumiez offers curbside pickup services, call the store for more information at 315-779-1255.
The Detail Shop is now open to customers (located in the former Sears Automotive.)  Call 315-921-5858 to make your appointment.
Stay tuned as we are working to announce the overall opening of Salmon Run Mall.  We look forward to having you visit us soon!